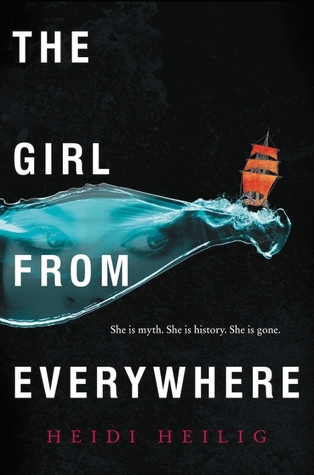 The Girl from Everywhere by Heidi Heilig
Nix has grown up on her father's ship,
The Temptation
. Her father, Captain Slate is a navigator
:
he
has the ability to sail his ship to any time and place, as long as he has a map of it.
When Nix was born in 1868 Honolulu, her father was "at sea" -- he didn't even know her mother was expecting. By the time he returned, her mother has died in childbirth, and he takes Nix with him on his travels.
Now, he has one quest: to find an original map of 1868 Oahu, to return to his lost love and save her, but changing her history could erase Nix from existence.
Fast-paced and action packed, Heilig's debut novel takes readers on a thrilling journey, with stops in nineteenth century Hawaii, ancient China, and present day NYC. Having lived in Honolulu myself, I especially enjoyed her descriptions of the island in the 1880s.
Readers will be left waiting for more -- this is a planned duology, but a publication date has not yet been announced for book 2. While you're waiting, check out other YA time travel novels such as: the
Ruby Red trilogy
by
Kerstin Gier
,
Passenger
by
Alexandra Bracken
, and of course, the classic
A Wrinkle in Time
(and its sequels) by
Madeleine L'Engle
.