Paper Girls (vol 1.)
by
Brian K. Vaughan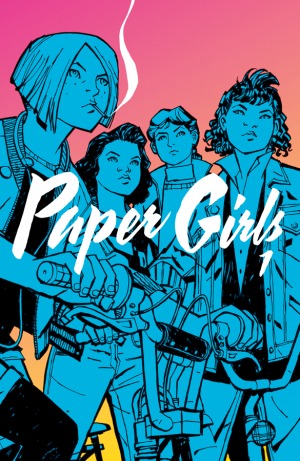 The year is 1988, the date is Halloween, and 12-year-old Erin is setting out on her early-morning paper route. She encounters a group of boys who try to harass her, only to have them stopped by a gang of street-smart paper girls.
And that's just the beginning of the wild ride in store for Erin... this book collects the first 5 volumes of this new comic series, and after reading it, I'm still not totally sure what's happening. There are pteradacyls, and time travel, and it all happens so quickly that readers won't be able to put this one down.
Illustrator Cliff Chiang perfectly captures the bright colors of the 1980s, while also creating this spooky early morning setting.
This graphic novel will appeal to teens (there is some strong language, but nothing teens haven't heard before) as well as adults nostalgic for the 80s.
Readers looking for graphic novels with strong female characters may also be interested in
Lumberjanes
and
Ms. Marvel