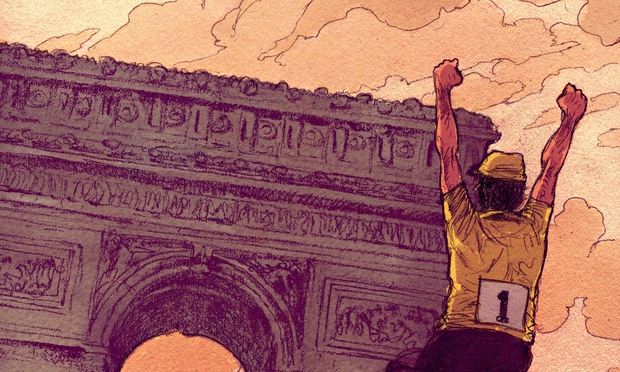 I recognize that I have a bias for cycling, but few could argue that the Tour De France is the most difficult sporting event that there is. In 2014, the Tour ran from July 5th to July 27th, was made up of 21 stages and covered a total distance of 2,276 miles. It included 9 flat stages, 5 hill stages, 6 mountain stages, 1 individual time trial, and only 2 rest days. Two days to rest when you're riding 2,276 miles. It's grueling, and it is always filled with the finest examples of the glory of victory and the agony of defeat.
Of course, the Tour is not without it's shady side, but it also has a glorious history that has been magically told in
Legends of the Tour, a graphic novel by Jan Cleijne
. Cleijne covers highlights of the Tour's history by sharing individual stories including Eugene Christopher who had to weld his bicycle back together at the foot of the Pyreness mountains in 1913, fans throwing tacks on the road to slow down approaching riders, and, of course, the doping scandals that have plagued the race for decades and made Lance Armstrong have a fall from a pedestal impossible to reach.
This is the first graphic novel for Jan Cleijne, a comic strip maker and amateur racing cyclist. It's clear he has a passion for the sport, and the panels brilliantly change tone according to the era of time that you are in. The beginning of the tour is illustrated with brilliant sepia tones that automatically bring you back to times past and the bleak panels illustrating the doping practices really make you realize what a dark, dark practice professional doping is. If you enjoy cycling, check out my other posts for some great cycling books available at the library.