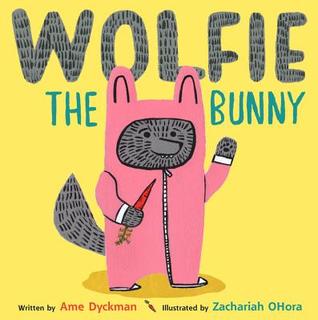 When mama and papa bunny discover an abandoned wolf cub outside their Brooklyn doorstep, they immediately decide that to adopt him into the family. Dot is anything but thrilled with the new addition. Everyone knows that wolves eat bunnies, not carrots. It's only a matter of time before he moves on from formula to something bigger and tastier. Dot keeps a close eye on the interloper overnight and raises her concerns once more over breakfast. Alas, it seems as though she is alone in her fear, which only grows stronger as Wolfie gets bigger and starts spending more and more time following her around. When Wolfie and Dot are sent to the carrot patch to procure more food for the family (wolves eat a surprising number of carrots), Dot is positive this will be the day that Wolfie finally eats her. Dot is surprised when it is Wolfie who is in peril when an even bigger foe arrives at the patch. Will she be able to put her fears aside and come through for her adopted sibling?
Wolfie the Bunny
is a charming, heartfelt tale that illustrates the importance of family and acceptance. Those of us with siblings are sure to find extra enjoyment in this humorous take on sibling rivalry. Ohora's bright, colorful acrylic illustrations coordinate seamlessly with the bold punchy text, serving to draw readers in.
For other children's books that focus on sibling rivalry, check out
Flora's Very Windy Day
by Jeanne Birdsall or
Bye-Bye Baby Brother
by Sheena Dempsey.