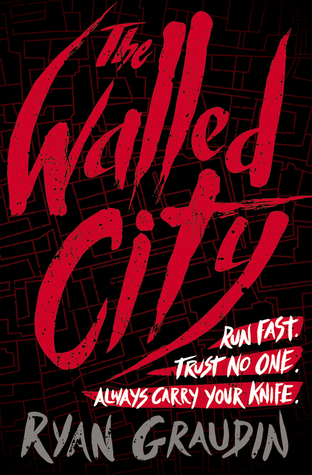 The Walled City by Ryan Graudin
The Walled City, based loosely on the Kowloon Walled City in Hong Kong, is an ungoverned settlement -- prostitution and drug smuggling are rampant. Our three heroes/heroines each have their own reasons for being there, and their own struggles to survive.
Dai is trying to escape his past. Now, working for the authorities, he is undercover, trying to take down the leader of a drug smuggling ring.
Jin, disguised as a boy, is trying to find her sister who was kidnapped years earlier and taken into prostitution.
Mei Yee, her sister, has been trapped in a brothel for several years, believing that escape is impossible, when one day a young man appears at her window.
This fast paced novel switches between their perspectives as all three race against the clock, trying to escape before the authorities take over the Walled City at the end of the year.
The Walled City
will appeal to readers who enjoy fast paced dystopian such as
The Hunger Games
or
The Maze Runner
series
.
Readers should also check out
Ship Breaker
and
The Drowned Cities
by Paolo Bacigalupi
.