Following a recent DIY Bridal Program, I've decided to take advantage of my research and share information from a few favorite books I used for the class. Not having a wedding anytime soon? Not to worry, the ideas contained in any of these books will provide you with plenty of inspiration for other occasions along with crafts projects and recipes to try. Some would make good home decor choices. All of these books were published in 2014 and are a good reflection of trends today. What I am noticing Rustic is in in a big way for the bride's day.

To capture the look of a rustic style, you use simple, time worn elements, objects or settings and re-purpose them to achieve a different perspective or use. Its beauty is that it elevates simple things to an elegant status. Using rustic elements or settings will bring a familiar or nostalgic note to any party event and are often clever ways to delight and entertain your guests for any occasion.


Book one is
Rustic
Chic
Wedding: 55 Projects for Crafting Your Own Wedding Style
by Morgan Hill. It has a lot of ideas for a shabby chic country style event. There are great photo collages and the projects come complete with a list of tools and supplies. The instructions come in written and photo formats to help you add personal touches for your event.
The fabric balls (pictured on page 43) are used at the end of an aisle hung from shepherds crooks at an outdoor wedding. They also would be a great alternative for a flower girl to carry if your venue does not allow petal tossing.
The instructions in the book call for tearing the fabric but I used pinking shears to achieve the same casual charm. Making your strips will be easier to accomplish. I used the same cloth to make fabric streamers and the snack bags (pictured on page 7) both are serviceable for any occasion. Other projects in the book are headpieces, bridal sashes and bouquets, tablescapes and so much more.
What I loved most about this book, beside the rustic charm, was the availability of the craft supplies and tools used. You can find most any of them at your favorite local craft shop or super center store. They are also affordable to make. The ideas are primarily for outdoor affairs but elements could be used indoors also. I rate it 4 1/2 stars for it's cute factor.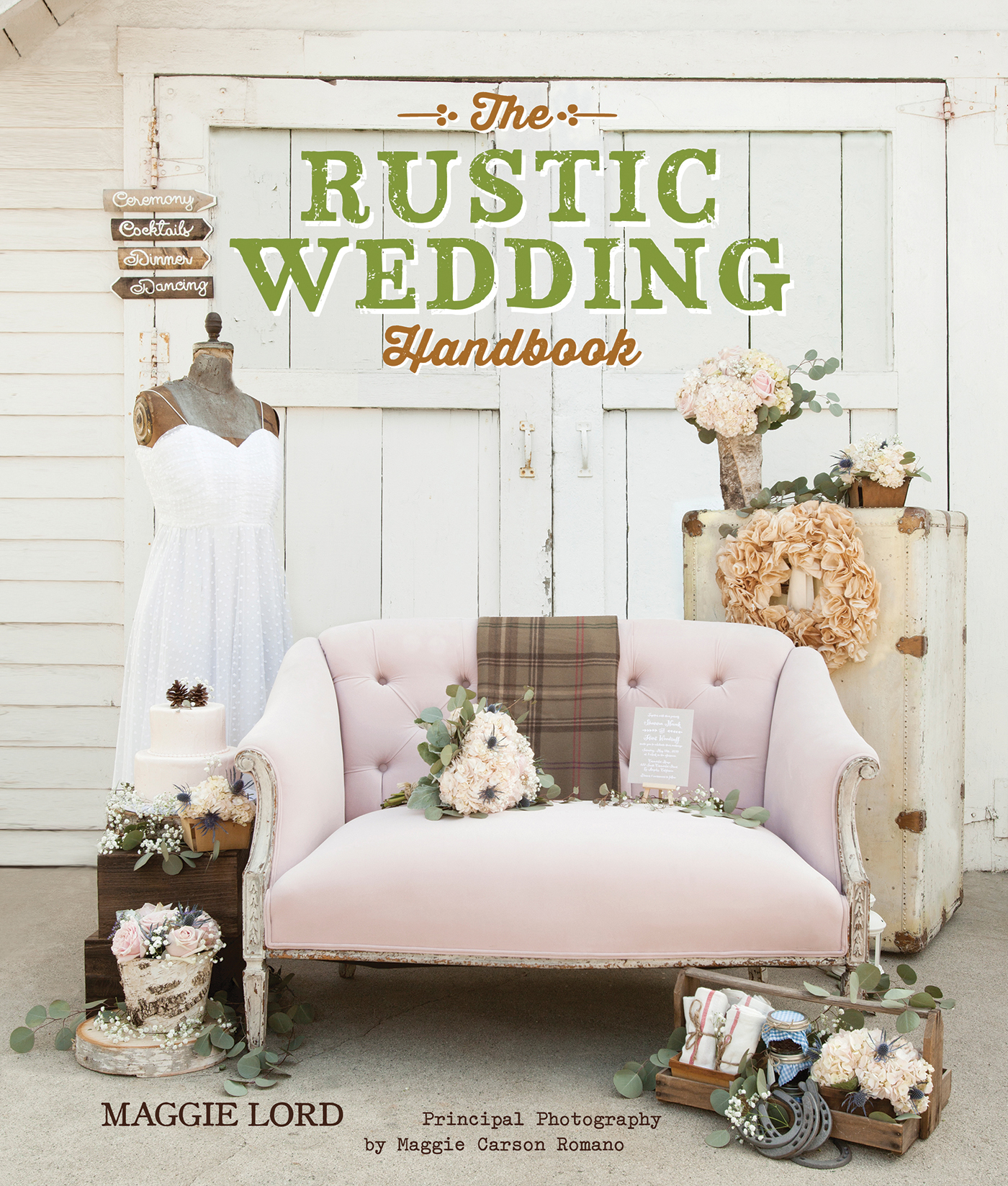 The Rustic Wedding Handbook
by Maggie Lord is book number two. Lord gives great advice in this book for each bride to help define their style. Whether you need guidance in picking a location or scouting for items at flea markets to re-purpose for inventive new uses which are so popular at today's events, it's in there. Plenty of inspiration for the "how clever was that" appeal to wow your guests. She also offers advice on remembering to check references when hiring vendors to avoid problems down the road. There are dos and don'ts for flea market shopping, such as taking into account how many guests you are expecting and staying true to your theme. There are a few craft projects for you too if you'd like to add personal touches. I'd rate this a 4 1/2, for its ability to showcase many types of venues and solid practical advice.
The next two books I loved. It is hard to choose which to write about first because there are elements of both that I loved equally but for different reasons.
Vintage Wedding Style
by Elizabeth Demos really spoke to me with the variety of different wedding styles it contains. All twelve of them are beautifully photographed, complete with a simplistic elegance that any bride would be completely happy with. It also included important tips for remembering all the tiny details that are so important to any occasion like suggestions on when to use vintage cars, allowing some alone time for the newlyweds and more.
There are also projects for those extra personal touches that make such a big statement as to how much you appreciate the folks you have invited to share your day. They are rated as to level of difficulty, letting you know when to start them, how many they yield as well as tools and supplies needed to complete each one.
I loved the fact the styles are so diverse. The book gave a suggestion for an Airstream Elopement for someone wanting an intimate ceremony, Schoolhouse Rock for those of us with educators among us, and Industrial Revival for the Steampunk enthusiast. I had not seen those included in other books when preparing for my class. I would rate this book 5+ stars for its super cool approach - all twelve different styles are chic, stylish and fun.
That brings me to mention
Stylish Weddings: 50 Simple Ideas to Make from Top Designers
by Jenny Doh. I happened to love that this book highlights the different wedding styles created by notable or famous designers. You might be already be familiar with their work from other books, blog sites or endeavors. Sometimes you just know you are safe in relying on suggestions from folks whose style you already admire.
As a fan of her website and cookbooks, I knew right from the beginning that I could depend on Serena Thompson's choices for her Farm Chicks Wedding. I have made the Butter Cake (featured on page 23) three times now. It is very easy to make and has a great presentation with its simple goodness and fresh ingredients.
This cake proves you don't need globs of icing and towering layers to suit the occasion. As you delve deeper into the book there are other great ideas that share a shabby chic element: Vintage Glam, Paris Style, Natural and Organic and more. I rate this book a 5 1/2 stars because of its designer appeal.
No matter which book you choose, they all share a multitude of elements that can be combined to mix and match for any occasion. Their color palates are similar and there are an abundance of ideas for adding your own DIY touches using canning jars, burlap and soft calico fabrics, vintage pins, photos, china and frames and wispy floral creations to personalize your event. Now...All You Need Is Love!