This week is
Teen Read Week @ Your Library
! VBPL is celebrating by bringing you some teen literature recommendations written by volunteers from the library's Teen Advisory Group.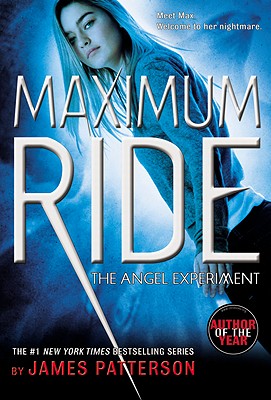 Maximum Ride
Maximum Ride
by James Patterson is a book about a flock of teenagers. A literal flock of winged teenagers. This bunch of lab rats are trying to escape the person who "created" them, a scientist that did all sorts of lab experiments on children - including his own son. The book is full of action, family and romance. A great read.
-Mara, Teen Volunteer-
John Green is the author of the famous The Fault in OurStars that started off as a best selling book and eventually became a hit movie. An Abundance of Katherines meets all of the expectations I had for John Green. This book features the charismatic Colin who is down on his luck after his 19th girlfriend named Katherine dumps him. Colin was truly in love with her and to cheer him up Colin's best friend Hassan Harbish convinces him to go on a summer long road trip before college starts. Colin, the genius he is, decides to create a formula, which explains whether a person will either be the dumper or dumpee in a relationship. While venturing Hassan and Colin discover a small town and meets a mother and daughter who offer them a job and a place to stay. This book follows the journey of Colin while he tries to recover from his breakup, enjoy his summer, and simply grow up.
I initially read this book because I have read other John Green novels and thought I would enjoy this one too. I was right. This book incorporated all of the aspects I want in a novel. It was well written, had not only comedy but romance too, and was written in a plausible scenario. And the ending was everything I could I have wanted it to be.
-Sara, Teen Volunteer-
The Red Pyramid
The Red Pyramid
by Rick Riordan focuses on Egyptian mythology. This book is similar to the
Heroes of Olympus
but has major changes. It focuses on a rather underrated love: sibling love. The dynamic between Sadie and Carter Kane is great, making them amazing main characters.
-Mara, Teen Volunteer-
Beastly
Beastly
, by Alex Flinn is about Kyle, a very popular and arrogant boy in high school. He's rich and is nominated to be Homecoming King, and his popular girlfriend is nominated to be Queen. He had everything he could dream of, but he's shallow and refers to most of the school population as "uglies". Kyle ticked off the wrong "ugly" when he pretended to invite her to Homecoming. This got him turned into a beast with fangs, claws and a body covered in fur. Then he found Lindy, a girl he considered an "ugly" once upon a time. Can she break his curse before he runs out of time and his curse becomes permanent? This was always my favorite love tale.
-Aubrey, Teen Volunteer-