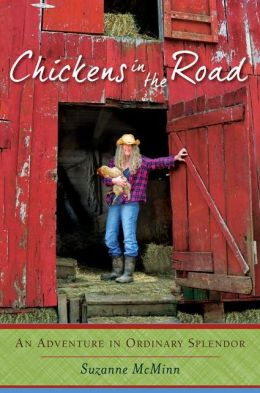 What happens when you invest emotionally and financially in a new venture and things go amiss? Suzanne has always had someone to care for her and help her along life's path. Now it is time to see if she can tough out her new relationship and keep the farm she has come to love. Or will she need to stand on her own?
Romance writer Suzanne McMinn's story begins as she finds herself at a crossroads. With her marriage over, she is drawn by ancestral voices to the hills of rural West Virginia where she vacationed as a child with her family. Her father couldn't wait when

growing up to get the heck out of West Virginia, and with the same sense of conviction, she couldn't wait to return.
She moves her three teenage children back to Roane County, WV, taking up residence in a quaint cottage once owned by family. There they must cope with their new country life and its challenges. That first year she would rely heavily on her beloved Georgia to learn self sustaining skills she had no use for in her former suburban life. She busied herself with planting, harvesting, and canning food for the winter months that would sustain her family on a tight budget, all the while caring for farm animals and learning to drive on icy roads. The winter months, though beautiful, presented another common obstacle. Trying to stay warm in a one hundred year old house that was inadequately insulated, with a temperamental furnace to match, sent teeth to chattering on many a night. Undaunted, she worked towards her dream of owning a farm of her own with the new man in her life.
S
he and her new fella, a man whose identity she disguises with the pet name "52" (his age at the time of their meeting) are on a quest to find a farm far from the things of man. They seek somewhere that Suzanne could have Chickens In the Road and no one will notice. They settle on a piece of property and decide to build a home and around it create the farm of their dreams. As it is often with construction, there are hidden costs and challenges. 52 still works in Charleston and commutes to the farm to deal with construction issues. Their relationship becomes strained as it happens that the location they choose shows itself to be inhospitable to farming with its

rocky terrain and lack of water in the right places. They are two for the road if ever there were, but are both shy of marriage after each surviving divorce. Will their partnership survive this new adventure?
I always dream of turning in the bustle of the city for my own adventure in ordinary splendor, having been raised in a small farming community myself. Suzanne's book is an honest look at the cost of your convictions and it resonates with her talents as a Romance writer. She clearly demonstrates that even if things don't turn out as planned, you are the one responsible for creating your own happy ending. In a sense you are writing each page, one day at a time.
Suzanne has a blog called Chickensintheroad.com which was initially a venture to chronicle her country experiences. It has also served as a source of income for her family as she continues to live out her farming dream and write from home. She also has camps or workshops that you can attend to learn some of her West Virginia Country Arts. Maybe I will escape the city, even if only for a while, and travel down that country road to see for myself what there is to learn. I invite you to check out the video clip on her blog that explains her quest to return to a simpler life and you will see for yourself the lure of the farm. You may find you will want to travel down her road too.
If you like this book about strong women leading their families to follow their greatest aspirations, you may also appreciate Mud Season by Ellen Stimson. Stimson's humorous adventure takes her to rural Vermont to find her own ordinary splendor.