Jan Thomas is one of my favorite writers of books for little people. She asks the big questions, as in
What
Will Fat Cat Sit On?,
Who's Ready for Fun?
and
Can You Make A Scary Face?
and explores the mysterious lives of things under the couch in
Rhyming Dust Bunnies
. Her books are perfectly crafted to read to your 2-3 year old or for your 5 -6 year old to read on their own. With bright, colorful illustrations and simple, large text they're excellent for teaching emotions















rhyming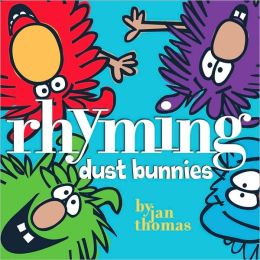 and the all-important goat counting.
Thomas' books are always full of fun characters and great opportunities to infer what will happen next. They will help your child develop narrative skills, print motivation, and phonological awareness. Did I mention they're really fun?
Looking for more great kid's books for your preschooler? Who doesn't love the original, Pete the Cat: I Love My White Shoes by James Dean or Ducks Don't Wear Socks by Jon Nedwidek? These titles and more are all available at your library.