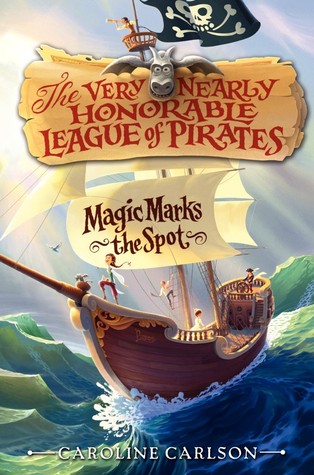 Determined to become a pirate, eleven year old Hilary Westfield writes to the Nearly Honorable League of Pirates requesting permission to come aboard as an apprentice. She is pleasantly surprised when she is accepted; however, her joy is short-lived as, once the pirates learn Master Hilary Westfield is in fact a girl, they immediately revoke their invitation. To make matters worse, they send her letter on to Miss Pimm's Finishing School for Delicate Ladies, which is only too happy offer Hilary a spot, even this late in the semester. Of course, her Admiral father and high society mother are thrilled to ship her off to finishing school and are no help whatsoever. After enduring countless lessons on curtsying and minding one's manners, Hilary is more determined than ever to escape her future as a high society lady in training. With her trusty magical gargoyle by her side, Hilary successfully escapes and secures a spot on board the pirate ship The Pigeon. Joining her on this high seas adventure is her governess from Pimm's, first mate Charlie, (who may or may not be a spy hired by her father), and the Captain, also known as the Scourge of the Southlands. Someone is stealing the few magical items left in the kingdom of Augusta and Hilary and her mates are determined to find the most spectacular of all magical treasures before it too is snatched up.
The Very Nearly Honorable League of Pirates: Magic Marks the Spot
is an excellent middle grade read as it's filled with exciting pirate escapades without the gratuitous violence and foul language found in pirate stories marketed towards older teens and adults. Carlson cleverly relays humorous anecdotes through the use of letters and newspaper clippings included at the end of each chapter, adding an extra layer of enjoyment.
The second novel in the series is due out in February. For other seafaring adventure stories, try
Peter and the Startcatchers
by Dave Barry and Ridley Pearson.