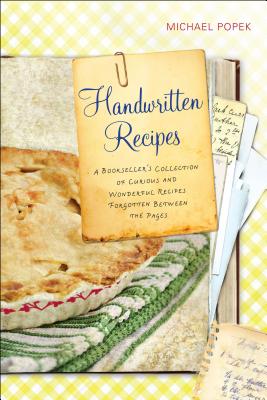 Michael Popek is a seller of used books in NYC. Over the years he has found many items tucked inside the books in his shop which he has rescued. They have inspired
Handwritten Recipes: A Bookseller's Collection of Curious and Wonderful Recipes Forgotten Between the Pages
. Included with each of the recipes is a picture of the book in which the recipe was found. Some have made their way into his family's favorites. Mr. Popeck also gives credit to his food-blogging friends that helped him decipher any illegible or hard to understand ingredients and measurements.
Mr. Popek has divided the collection of recipes in the book into Breads and Baked Goods, Side Dishes, Main Dishes and Desserts so there should be something for every taste and occassion. It reminds me a lot of my own burgeoning recipe keeper and the many recipes that I have collected over the years. Many have faded that were written in pencil, some are written in the hand of an elderly friend or relative that I just can't bring myself to discard even though I have recopied them. They are a link to my past.
I was delighted, when leafing through the book, to find a recipe for Jewish Apple Cake (pages 140-141). Though it is thought to be Pennsylvania Dutch in origin, it is possibly considered Jewish because it contains no dairy and can be served in accordance with the Jewish food laws. I acquired the same recipe back in the late 70s from a friend when I lived in Northern Virginia. Discovering it made for a momentary reverie... remembering old times and old friends.
I made the Jewish Apple Cake precisely following the recipe in the book with one minor exception, brought it into work for an eager group of taste testers to sample and it recieved excellent reviews. In addition to the diced apples, that are an ingredient in the Jewish Apple Cake, I also reserve 6-8 long thin apple slices to arrange on top of the cake after the batter is assembled before baking. It makes for a pretty presentation. This step is not in the book recipe. It was also fun to learn that a co-worker, that is also near my age and had lived for a time in Northern Virginia, had tried this cake long ago too. It made me wonder if the recipe had been featured in a magazine or newspaper back in the day. Sadly, I had lost touch with my long ago friend and could not ask her where she got the recipe in the first place. Or maybe the theory of the six degrees of seperation is at work and perhaps my co-worker knew my friend Criss. Noreen has since made it for her family and related that the simplicity of the cake and its uncomplicated goodness was a hit with her family as well.
The following day I made the Applesauce Cake on following pages (142-143), also taste tested by co-workers. That cake plate was also licked clean but comments indicated that most folks preferred the Jewish Apple Cake. There seemed to be a consensus that they liked the alternating layers of apples and cake best. I personally like the spiciness of the Applesauce Cake and that it also contains nuts and raisins. It reminds me of my mother's recipe that I make from time to time at home. Either recipe is a good choice to serve as a special treat for your family or friends.
A fun diversion if you are a foodie is to checkout Mr. Popek's blogsite Handwrittenrecipes.com. You will find he has recently featured a recipe for Applesauce Cake which is different from the one in the book.
Another book featuring forgotten tidbits is
Milk Eggs Vodka: Grocery Lists Lost and Found by Bill Keaggy
, a humorous look at found grocery lists.