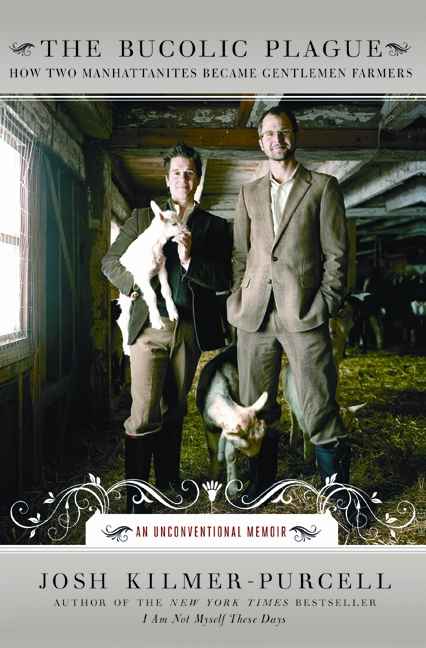 Despite all the current buzz in returning to our roots and getting back to basics Josh Kilmer-Purcell warns at the very beginning of the book that
The Bucolic Plague
will not inspire you to quit your current job and take to the soil. I was not daunted by this foreboding, having been bitten by the very same sustainable living bug. I read on because I had already seen the Green Planet television series featuring
The Fabulous Beekman Boys
on DVD and was intrigued by the couple's exploits, the tiny town of Sharon Springs and their life support system named Farmer John. Heck, I have been lucky enough to be present when new "kids" were being born and have gotten to milk a goat at a local friend's farm and even if I wasn't exactly proficient at the milking thing, the warning from the current Beekman Boys did not dampen my enthusiasm. I've read Animal,Vegetable Miracle by Kingsolver, The Omnivores Dilemma and seen Food Inc. and would not be dissuaded and continued to dream unabashed!
In
The Bucolic Plague
, as in real life, Josh Kilmer-Purcell and Brent Ridge were New York City slickers. Josh worked in advertising, had been a former drag queen - a sharp contrast to having grown up in rural Wisconsin. The other, more famously known as Dr. Brent to the maven of all Good Things, felt totally at home at Martha Stewart Omni-Media as a vice president. Dr. Brent had a propensity for over achieving and his own preoccupation with all things perfection. Ah...the perfect couple, the dreamer and the visionary, would have their ten year relationship tested.
The story starts out with Brent and Josh's return trip from a weekend in Upstate NY on their annual apple picking venture. The pair stumbled upon a quaint, seemingly ghostlike town and fantasized about finding a weekend place to use as an escape from the asphalt jungle. Then just as if made to order the baronial Beekman Mansion, built in 1802 by William Beekman, stood vacant and on the market. The house experienced its own cycle of occupation over the years and had been in a state abandoned disrepair before the previous owners, sparing no expense, bought it and did a full renovation. The widow, also a New Yorker, left with her husband's loving project, accepted a low offer from the pair and the boys had the shiny, newly renovated house of their dreams....and then some.
Some may say be careful what you ask for because you just might get it. With little experience in running a farm between them, as luck would have it, Farmer John comes into their lives bringing his goat herd with him to the Beekman. Everything seems mice en place, farming style that is. Add some poultry, a cow and a few other farm animals as well as an organic heirloom vegetable garden and fruit trees to the mix and the farm sprung back to life. All the before mentioned needing to be tended on weekly commutes from the city, generating an endless list of chores. The goal was to have the farm sustain itself so the couple would one day live full-time on the farm...hence the branding of Beekman 1802.
Then the economic downturn hits and brings other trials and tribulations to the farm chore weary couple. Jobs are lost, a loving relationship seems strained and hope seems lost too. It is a must read to the end to find out how the boys muddle through with love, ingenuity and a little help from their friends and community. It would be hard not to root for their success with the winning grace and understanding the author seems to have fully in his grasp. Lest we forget to "Live our best life!"
The book story predates the Green Planet television series and season 2 was picked up by the Cooking Channel. They also were competitors in The Amazing Race and won...exhibiting the same grace and style that is so apparent in the book! Check out their blog to see their gingerbread thank-yous to the other participants and how they will spend their winnings. You can also follow Josh and Brent's life on the farm online at
http://beekman1802.com/
and look to see what books the boys are recommending on their blog.
The Bucolic Plague
contains three recipes. One for the famed party pleaser known as Pink Stuff and another of Sharon Springs holiday cocktail favorites, Garth's Mom's Christmas Eve Margaritas. Also included is William Beekman's Syllabub from 1796 based on the original recipe from American Cookery by Amelia Simmons. Three cheers from all at Beekman 1802!
Josh Kilmer-Purcell has also written
I Am Not Myself These Days: A Memoir
and you can find many ideas for seasonally sustainable meals in
The Beekman 1802 Heirloom Cookbook
.
The cookbook is meant to passed down to the next generation with beautiful cards included for adding your own recipes as well as sampling recipes for adoption in your own cooking repertoire.